INDRE et LOIRE –  dep. 37
–          Ecomusée du Véron   /  sciences – history – society : 80, route de Candes 37420 Savigny-en-Véron   Tél : 02 47 58 09 05

Continuer la lecture →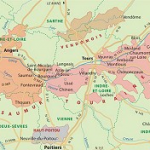 It is a large region within which we can identify four sub-regions:
Continuer la lecture →
Here you will find the address book of the artisans and the producers who you can meet during your visits and walks in Touraine, territory unique for the variety and quality of its products.
To start, the collections timing, in order to choose well in every season what buy and taste.
Then, the list of markets that take place each day of the week in the city area.
Finally, the list of local producers and artisans, grouped by commodity and by region.

Continuer la lecture →